We combine corporate and startup expertise with preneurial innovation methods to create unique learning experiences.
Innovation & Preneurship
This 40 to 50 hours program will provide participants a hands-on experience with innovation methodologies and their application in corporates and startups. Participants will learn about the methods and approaches of innovation management, intrapreneurship and entrepreneurship. Based on selected relevant case studies, they will experience and work through real life challenges and deal with barriers for innovation and entrepreneurship and it's success factors. Participants will learn key tools to develop business concepts and business models and develop and present product, service, process or business model ideas in teams. In optional modules, the class visits key places in Berlin's startup scene, experience the eco-system and interact with relevant actors.
StartingUp & Roadmapping
This half-day or full-day event enables participants to develop their startup plan based on the Business Model Canvas and Value Proposition Design. We cover all important aspects of a business plan, project or investment proposal and review best-practice cases. We give practical tips and tricks to develop a meaningful plan and roadmap based on a strong sustainable value proposition solving a real problem for clearly defined target customers.
Business Plan & Business Model Scenarios
In co-operation with GISMA German Business School, we have designed the two day Executive Education module "Pressure Test Your Business Model" to equip innovators with the context, knowledge and tools to deal with the increased complexity in today's fast paced innovative markets and the financial impact of strategic business model scenarios.
Hands-On Workshops
To support and accompany company building and business growth, our portfolio of intense half-day workshop includes Business Model Canvas; Value Proposition Design; Effectuation; Market, Target Customers and Sales; Brand and Positioning; Value Proposition and Pricing; Financial Planning Tools; and LEAN Startup.
Digital Transformation
Organize and master your digital journey in seven steps, from accepting the challenge to sustainably designing your digital future. We combine startup know-how with many years of leadership experience, change management, and it's application in our rapidly changing digital world.
Market & Technology Trends
Half-day or full day seminars covering important global market trends or technologies. We discuss their implications to participants businesses. Our portfolio includes topics like 'Anticipating Black Swans?', 'Goodbye Petro-Dollar', 'Blockchain', 'Big Data' and others).
Getting very specific about our product idea forced us to confront hidden challenges which we hadn't yet considered. The workshop was motivating and inspiring.
Connor, Workshop Participant
I liked learning about innovation from the point of view of both startups and larger companies and experiencing how to turn an idea into a business model. Klaus is keeping everybody having fun and enables creativity with fun exercises.
Lakshya, Participant Innovation & Preneurship
I liked the interactivity, solution orientation and mix of different competencies.
Katrin
Working with Klaus has been a great experience. He can conduct intense workshops that provide high value and he is resourceful into finding solutions. Klaus gives you the tools to progress your ideas and I recommend working with him.
Antonis
"Culture eats strategy for breakfast." goes the line coined by Peter Drucker. Where does great culture come from and how can we have one? Scores of articles and books have undoubtedly been written on the subject, but can we experience this in a practical way? One of the core elements of culture building that we looked at in NanoLabs on Monday during the Social Prototyping workshop with Martin Ciesielski, managing director of medienMOSAIK® a "consulting and training firm for leadership in the digital age", was trust. 
Once a degree of trust between people has been established, they can go places. Scaled up to organizations and they go places. Big places.
This is where Social Prototyping comes in: in order to stay ahead in the ever-evolving world, companies need to continually innovate. They need better, faster, more efficient means of providing their customers with the products and services they want. Therefore, fostering a culture of innovation, built on trust, should be one of the key priorities of most if not all organizations operating today.
Social Prototyping helps teams to develop a thorough understanding of how changes in behavior can lead to changes in culture, and how changes in culture can lead to breakthrough innovations. Essentially, Social Prototyping uses group activities to simulate different variables needed for developing trust. This is extremely useful for bringing awareness to the dynamics of a group, how culture influences these dynamics, and how they can be optimized to create an ideal environment for designing new business ideas.
In order for teams to work effectively towards idea generation, they need to trust each other. Trust that they listen to each other, really listen; trust they won't be judged for voicing an idea or opinion, punished for making an attempt that fails, or risk their position by being transparent with their colleagues.
Where there's trust, there's culture. And where there's culture, well, there's a big appetite.
StartUp Night, Think Big. As a new intern in Berlin, who is slowly diving into the Start-Up eco-system that surrounds this capital (even in cafés), it´s been positively overwhelming to be apart of one itself. The first week of my internship ended nicely with an...
StartUp Night, Think Big. As a new intern in Berlin, who is slowly diving into the Start-Up eco-system that surrounds this capital (even in cafés), it´s been positively overwhelming to be apart of one itself. The first week of my internship ended nicely with an...
The difference between knowing how something works and actually doing it yourself is a natural process we must face if we want to acquire new skills. Just as there is a difference between reading, "How to Fly an Airplane for Dummies" and piloting an actual aircraft,...
Windows pop-up: "Ooops, your files have been encrypted!" Me: "Ummm, what?" This was the exchange for tens of thousands of people last month during one of the largest "ransomware" attacks of all time. Ransomware is a malicious software that holds your system's data...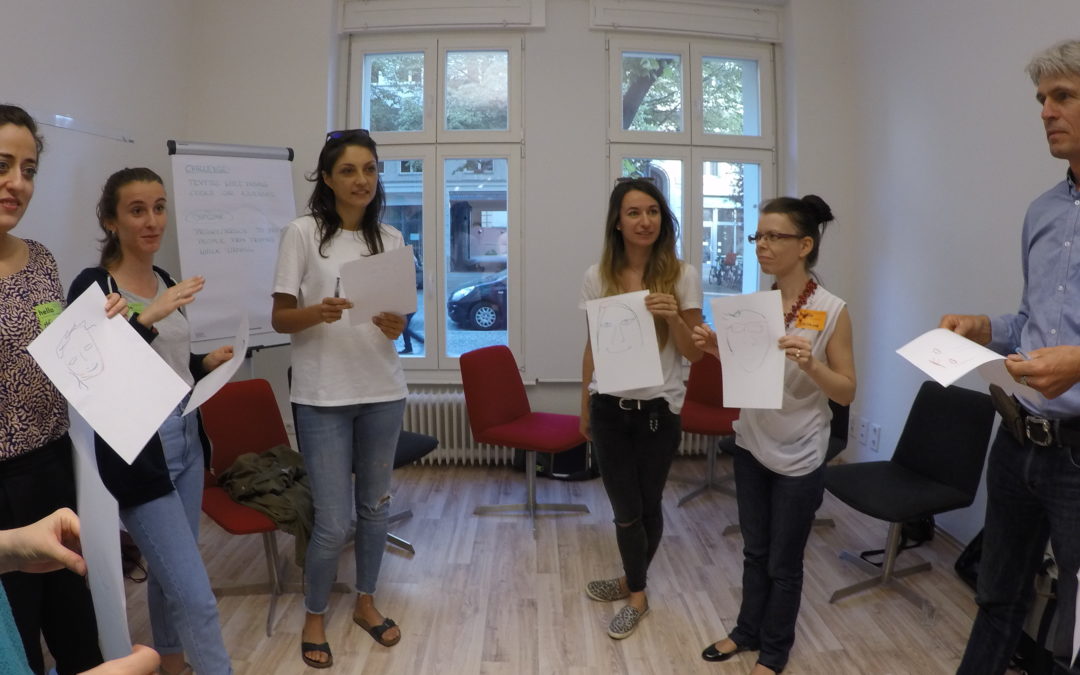 Week two of our NanoLabs summer event series took place last night here at InnovationLabs.Berlin. With a positive turnout of innovators from near and far, we put our heads together to address the challenge faced by e-learning. Current trends in e-learning (online...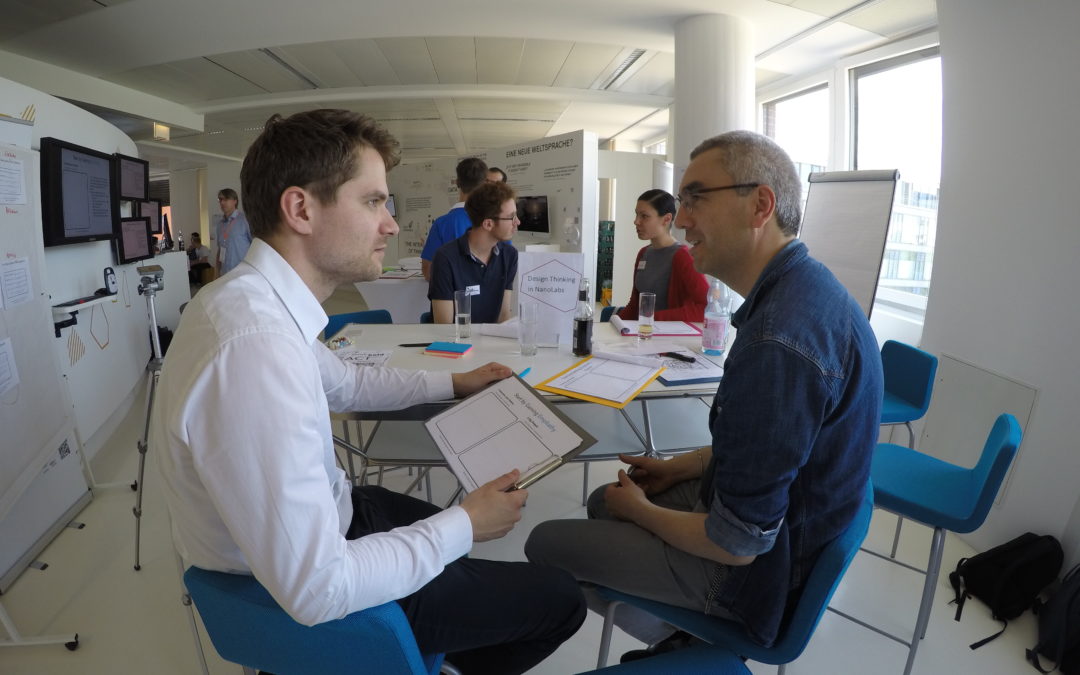 Thanks to Smart Data Forum and TU Berlin for hosting a very productive event! The attendees for the "Design Thinking in NanoLabs" were a diverse group, many without previous experience in Design Thinking methods, and uncovered some fantastic insights for their...
This week, Masters students from the University of Waterloo's Innovation program visited our site here at InnovationLabs.Berlin. We discussed innovation in Berlin, the unique startup ecosystem, and of course, put them through a Nano Labs workshop. The topics were "How...
What's it like to be in a group of 7 strangers and telling them what your greatest fear is? To be frank, it was quite liberating. Personal questions like this and other small group activities were used to break the ice at VisitoRs' virtual reality (VR) ideation...
60 Minutes. 2 Groups. 1 Goal: Propose Creative and Practical Solutions for Everyday Problems - NanoLabs at SRH START-UP LAB Berlin.  InnovationLabs.Berlin moderated NanoLabs with master students from SRH Hochschule Berlin. NanoLabs are ideation sessions where small...
In cooperation with our new partner Luvago, we have developed Digital Validation Labs. It is based on intensive interaction with customers including SAP, Red Bull and others. Together, we determine the digital maturity of your business or organisation, addressing the...
Thanks to many engaged innovators, mentors and founders our two participating startups MVP Space and Philosophers in Business, received great support to tackle some of their current questions. Caroline, founder of Philosophers in Business likes mostly that the...