USER SCENARIOS: MOBILITY.

CHALLENGE
How to improve the user experience in public spaces through creative approaches and new technologies?
CONTEXT
Workshop about mobility at CUBE Tech Fair, Berlin.

IMPACT
Developed solution ideas to improve the experience with public transport in three specific scenarios.
Short stop motion video created during a 60 minute workshop.
APPROACH
Designed immersive scenarios to improve the user experience with mobility in a playful way. 
Created 3 situational scenarios in public transport including user persona and challenge.
Identified solutions for the set challenge using inspiration and interaction cards to stimulate creativity.
Collected feedback about the created solution ideas using stop motion video clips. 
KEY RESULTS
The collaborative setting and tools helped the participants to
deeply immerse themselves into the given context, situation, and challenge.
playfully developed stories about the scenario, the personas involved, and the new interactions created, 
define new user interactions in public spaces. 
Bus stop scenario with interaction cards.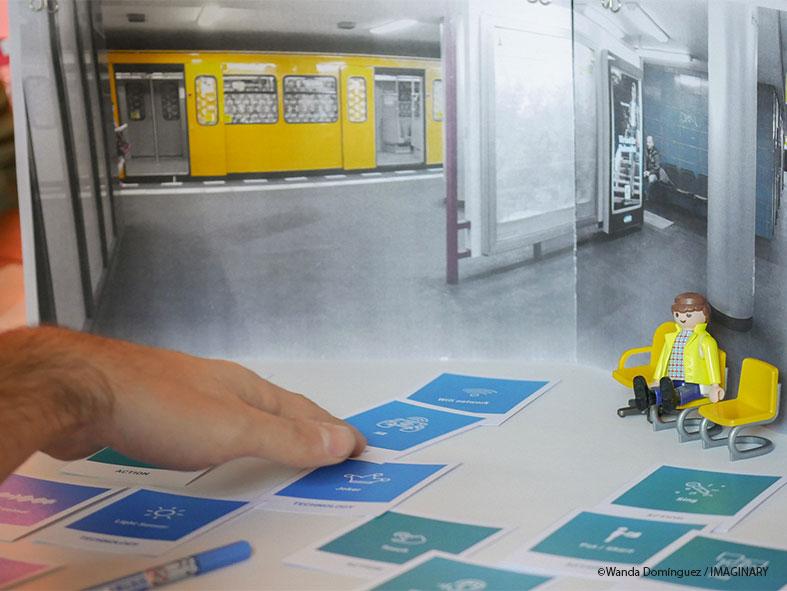 Scenario for metro station.
InnovationLabs.Berlin inspires, enables, and leads individuals, teams, and organisations to innovate with impact.